If you are feeling the effects of a labour shortage you're not alone. According to BDC, 39% of small and medium-sized businesses in Canada are having difficulty finding new workers right now. The worst part? It's not forecasted to get any better for at least a decade.

The nationwide labour shortage is creating significant challenges for many businesses who have just survived their biggest threat yet; Covid-19 and its lockdowns. Now the threat continues and there isn't a vaccine to alleviate the symptoms.

As demand comes back online and people are ready to leave the house, begin socializing and spend money again, businesses are fighting tooth and nail to deliver their products and services. Although businesses in almost every industry are struggling with the shortage, few industries have been hit quite as hard as the service industry.
Desparate times in Revelstoke
In Revelstoke, a Best Western Owner says he's had to restrict restaurant dining menus due to lack of staff. But that's not all; the hotel operator is also forced to leave hotel rooms offline or unavailable because they do not have the available staff to clean the rooms.

In April, the Revelstoke Chamber of Commerce conducted a pulse check survey with 35 local businesses responding. Out of those 35 businesses, 20 stated that their availability of workers has worsened. The outlook since then is predictably worse again.

Reducing hours of availability and overall supply is making the recovery from COVID's sweeping lockdowns even more difficult than originally thought.

Revelstoke is a hot area for tourism, but foreigners come to do more than visit in Revelstoke. Workers from all corners of the world come to work in the tourism industry as well.

With travel restrictions still in place, the number of work visas is down dramatically. According to immigration Canada, in the 14 months prior to the start of the pandemic (February 2019-March 2020) 69,186 participants activated their work permits. Whereas 14 months after the pandemic (March 2020 to May 2021), only 10,119 participants activated their work permits.
What factors are driving the labour shortage?
A decrease in immigrant work visas is one factor, especially in tourist favourites, like Revelstoke. The decrease of immigrant workers is culminating with other factors that make the labour shortage more widespread — and longer lasting.

In the fall of 2020, many baby boomers retired early. Some were forced to retire early as companies downsized to mitigate the uncertainties of the economy. Others who were in a higher-risk category for contracting COVID-19 chose the safety and comfort of being home with family over trekking to work and potentially getting sick.

With an ageing population and fewer immigrants, we can expect the trend of more exits than entrances to the workforce to continue.
CERB
Then, there are the controversial CERB payments which now seem to have unintended consequences from their initial purpose: flatten the curve and support those who stay home from unsafe work.

CERB pays unemployed people a flat $500 each week. For thousands of people, that means choosing between earning $488 each week at minimum wage or sitting at home and pulling in $500/week for doing nothing. It's an oversimplified comparison and does not apply to everyone – but it does call attention to a very real factor in the current labour shortage.

While accepting CERB payments over working full time, retiring early to avoid illness, and fewer immigrant work visas may all be somewhat predictable and understandable, there is one last variable that few saw coming: the great resignation.
The great resignation
The above contributors to the labour shortage acutely impact low wage-earners and industries that rely on them, like the restaurant and tourism industry. The great resignation is affecting a different segment of the employment market. It's happening in tech, marketing, finance, and other sectors of high earners.

The great resignation is thought to be the result of a workforce that is changing its priorities. The pandemic caused people to reflect on what is important to them: is it time to pursue a passion? Do I really like what I do? Am I fulfilled? Can I work another year for this boss? All questions the workforce is reconsidering.

Just as people fled densely populated cities in favour of big backyards, slower life and security of a suburb they are choosing lifestyle over paycheque. The gig economy promises a transition from corporate dread to independent freedom, and many unhappy workers are taking that leap of faith.
What does a prolonged labour shortage mean to Canadian businesses?
Companies are scrambling. They are outsourcing to BPO companies, hiring younger and less experienced workers than before and we now regularly see things like the images posted below on storefronts and Facebook pages alike.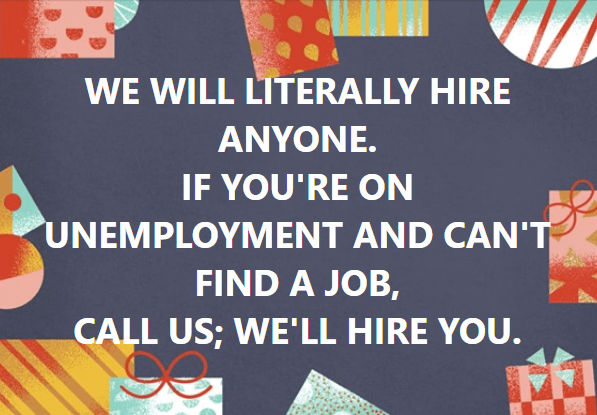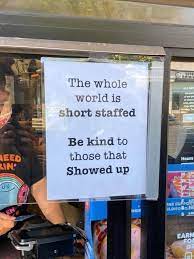 Aside from hiring younger and less experienced people, Canadian businesses are faced with real challenges right now. The BDC reports:
56% of respondents said existing staff have to work more 
43% said growth is now limited
26% unable or delayed fulfilling orders  
26% feel less competitive 
17% said quality is deteriorating.  
How the labour shortage is affecting the call centre industry
The labour shortage is impacting the call centre industry too. Telelink, along with many of our peers, has been struggling to find enough hires to meet the demand for our services. One metric that has been impacted the most is the average time to answer. Typically call centres strive for a 70/30 answer time. Meaning 70% of calls are answered in 30 seconds or less.

The labour shortage is causing the entire industry to reflect on this benchmark and move towards a more realistic service level of 80/60 - being 80% of calls answered in 60 seconds or less. When compared to airlines, banks, insurance companies and other large call centres, this is still an amazing answer time, but it is an adjustment for the industry.

While we having our own challenges, we're also persevering and making progress worth mentioning when it comes to fighting the labour shortage.
How Telelink is addressing the labour shortage
Telelink is located in St. John's, NL. BDC Reported that Atlantic Canada was hit the hardest by the labour shortage as the 39% Canadian average of employers struggling with hiring new workers is pulled up by the 50% of Atlantic Canadian small and medium-sized businesses fighting the labour shortage problem.

Although hiring has been tough, we have managed to grow our workforce by nearly 50% in 2020 and 2021. We're going to share the strategy that allowed us to continue to find, attract, and keep talented workers.
Hire rural
Telelink quickly mobilized its workforce prior to the first wave of COVID-19 cases reported in Newfoundland and Labrador. As our existing team worked from home, we continued to hire and allow new additions to work from home as well. The more we hired remote positions, the more we reached beyond the city of St. John's to rural communities in Newfoundland and Labrador. In those communities, we found amazing talent that are valuable contributors to our company.
Create a sense of community
We use video meetings and private Facebook groups to help our team feel a sense of community and comradery. We stay connected with each other and have resources readily available for anybody struggling mentally from working alone, in isolation, or any other factors of the new working world.
Can we help?
While we do not claim to have "figured out" this whole labour shortage problem, we feel we are dealing with it well. We didn't tread water the past year, we grew. Our rural hires are truly amazing folks, and while we continue to look for new ways to attract talent during this labour shortage, we are committed to serving our customers in any way we can.

If you're struggling to take calls, respond to messages, book appointments, manage tenants, dispatch your maintenance staff, or anything else, please let us know if we can help. Telelink offers a suite of call centre and customer support services that can allow you to focus on core business while you outsource the admin work to our team.